Welcome to Christmas at Gayton!
There are so many awesome ways at Gayton to celebrate the birth of our Savior! Check out our Christmas happenings below and message us through the Connect Card if you have any further questions.
Christmas Eve Services // Dec. 24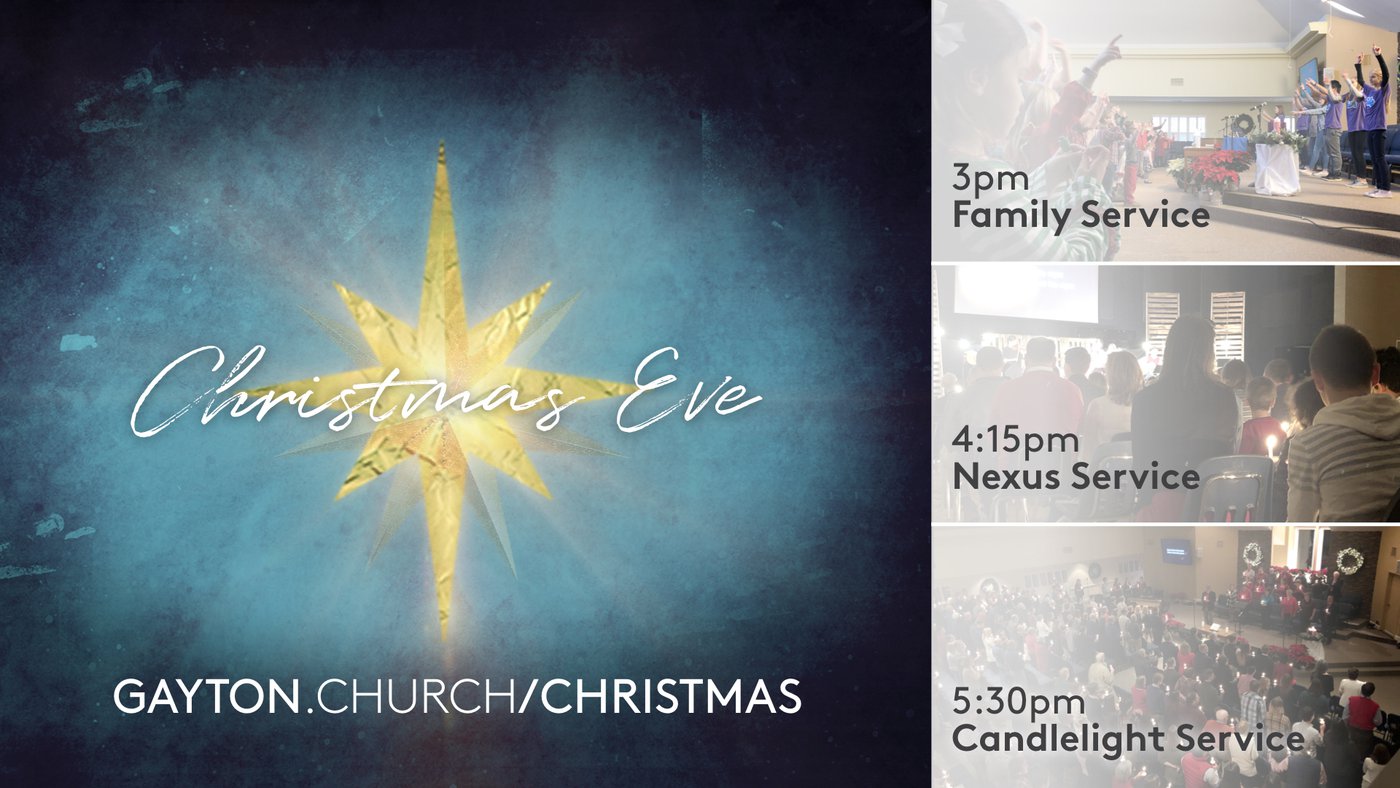 We have three unique opportunities to worship together on Christmas Eve. At Gayton, it's important to create different expressions of worship that connect with all generations. Please come and be a part of one or all of our gather times below!
Family Service // 3:00pm // Worship Center
Our Christmas Eve Family Service is designed with kids in mind. Kids are central to the life of Gayton and delivering the truth of Christmas in a creative way and in language that children understand is vital to their grasp of who Jesus is. Of course, families and kids are welcome at ALL of our Christmas Eve services, but this one is especially... special!
Nexus Service // 4:15pm // Gym
Nexus is our new, modern expression of worship that takes place each Sunday at 10:45am. Through an easy-to-understand message, an engaging worship environment, and people who are ready to welcome you, we believe both those familiar and unfamiliar with church will find deeper community and fall in love with the timeless message of Jesus. Join us for a special, powerful time of worship for Christmas Eve!
Candlelight Service // 5:30pm // Worship Center
Jesus is the Light of the world! Join us as we celebrate the new born King through a message, Christmas hymns, and songs of worship with a blended-style of contemporary and traditional elements. Our Voices of Gayton choir will help lead, and we will continue our tradition by lighting candles together to illuminate the room!
Jazz Nativity // DEC. 6 | 7 | 8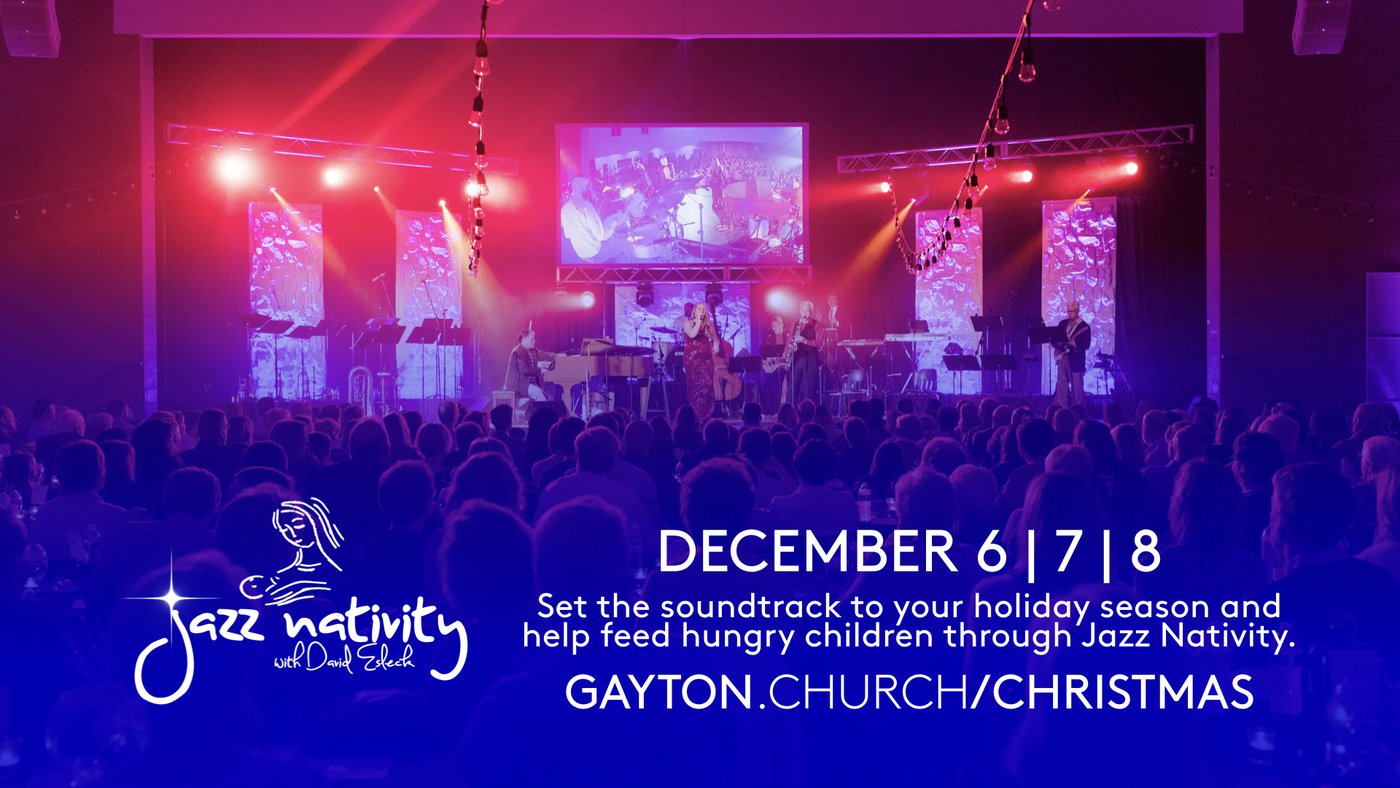 Jazz Nativity is our annual event to set the sound-track to your Christmas season! Through an exciting Christmas Jazz performance, we'll band together to raise money for the Feed My Starving Children packing event. Learn more about Jazz Nativity and FMSC below!
Kids Christmas Musical // Dec. 15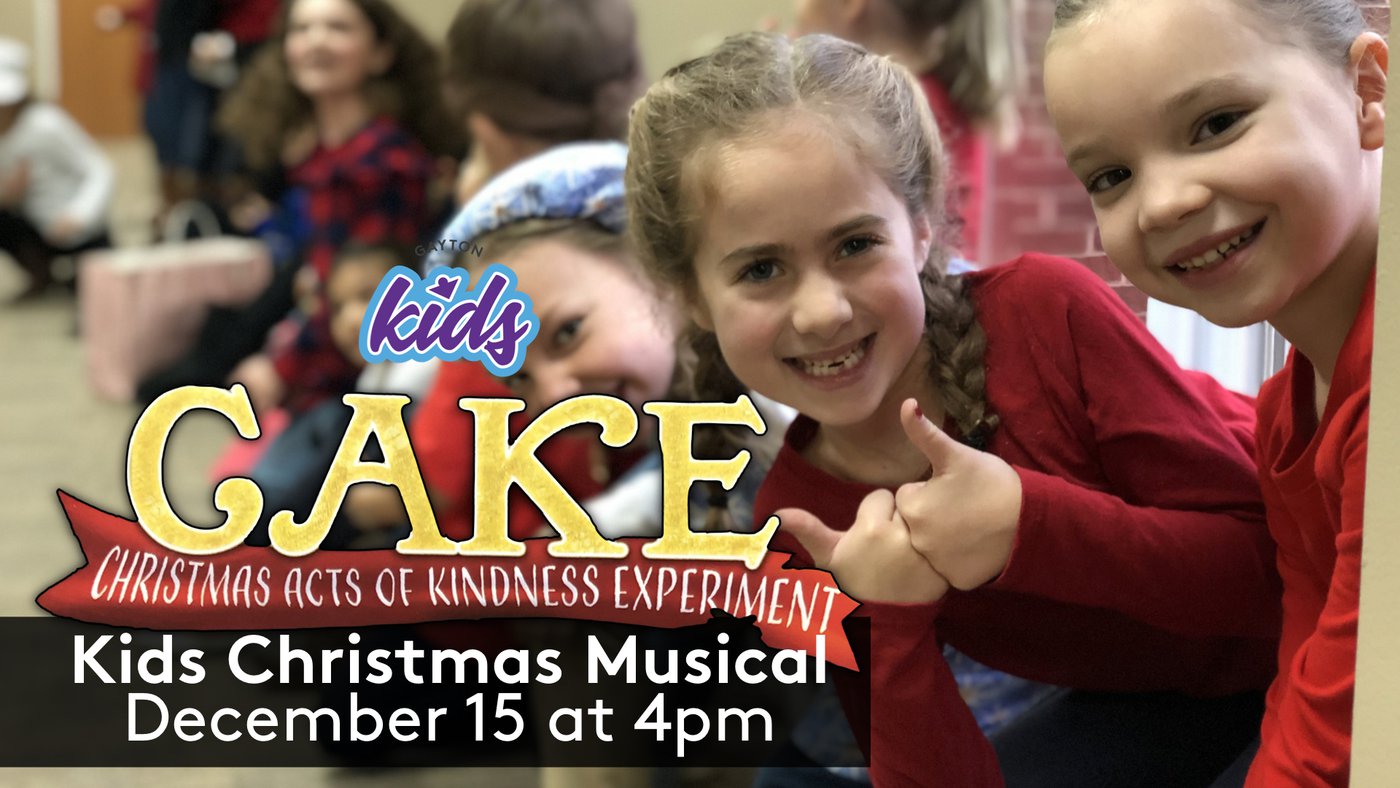 CAKE // Dec. 15 at 4pm // Worship Center
One of the funnest events of the Christmas season, Gayton Kids presents CAKE: Christmas Acts of Kindness Experiment! Our kids have been working hard all fall to bring you a creative, fun, and memorable musical. Come and enjoy the Christmas story told in a exciting way!
Cocoa & Caroling // Dec. 18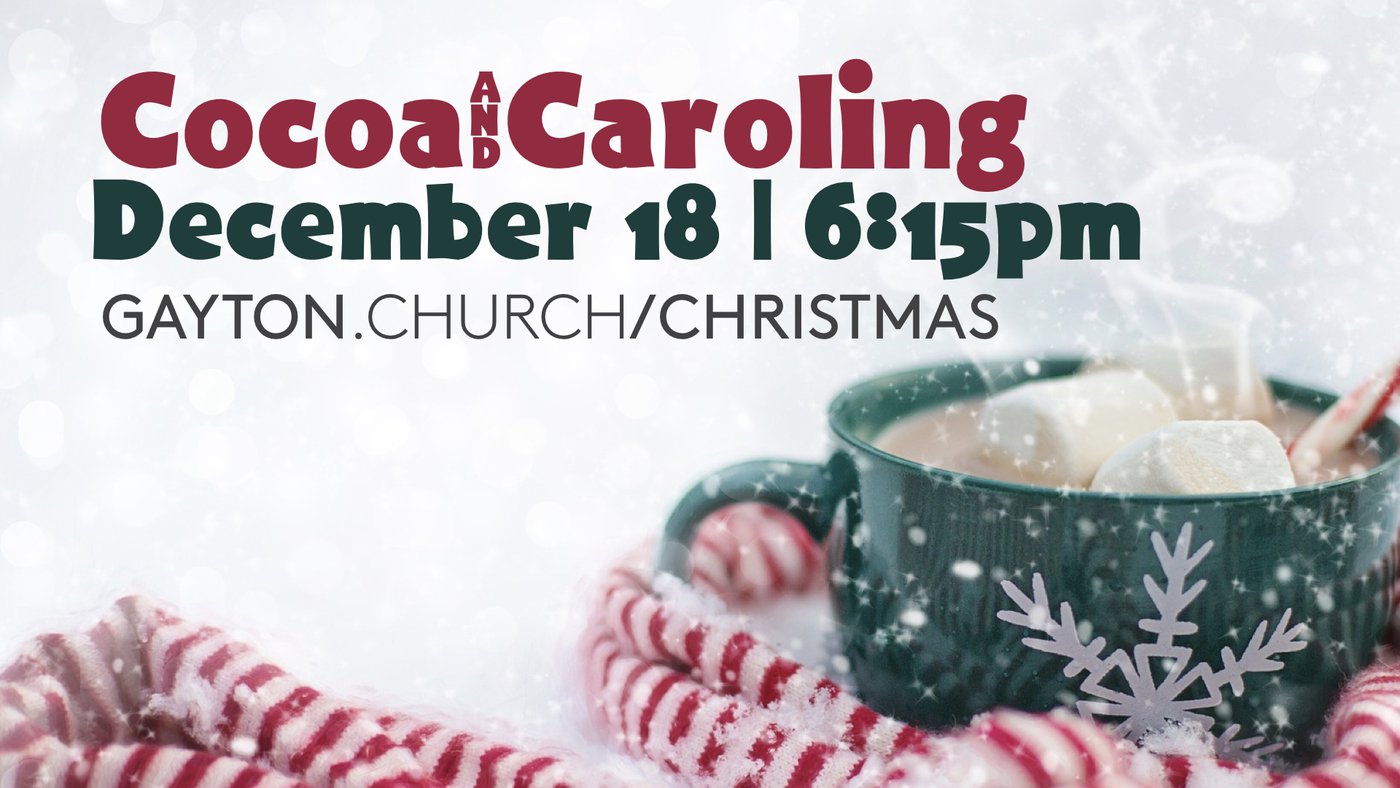 Cocoa & Caroling // Dec. 18 at 6:15-7:30pm
Everyone is invited to join together for Cocoa & Caroling! We'll meet in the Pumphouse Cafe (inside the Gayton Church building) and then travel in groups to surrounding nursing homes to walk the halls and sing songs of Christmas! You'll get to meet and encourage many of the residents. A great singing voice is NOT required! Smiles and joyful hearts are a plus! After we carol, we meet back at the Pumphouse Cafe for hot cocoa and cookies. It's always a special time together!
Christmas Cantata // December 22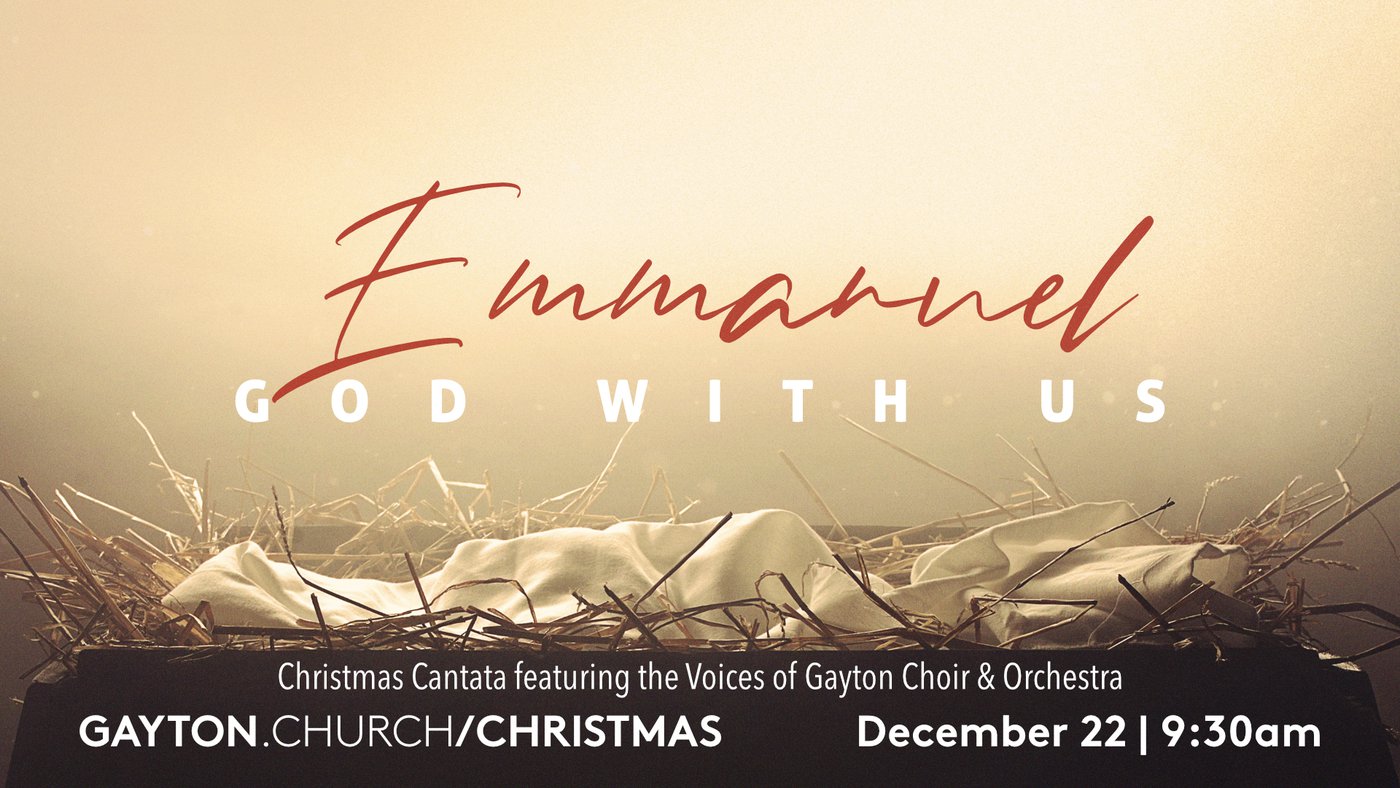 Christmas Cantata // 9:30am // Worship Center
On Sunday, December 22, our Voices of Gayton choir and orchestra will present "Emmanuel: God with Us" Christmas Cantata. It will be a joyful time of worship together led by the choir and everyone is encouraged to come experience this beautiful time of music and worship!
*Our Nexus worship gathering will continue at 10:45am.
OTHER UPCOMING FEATURES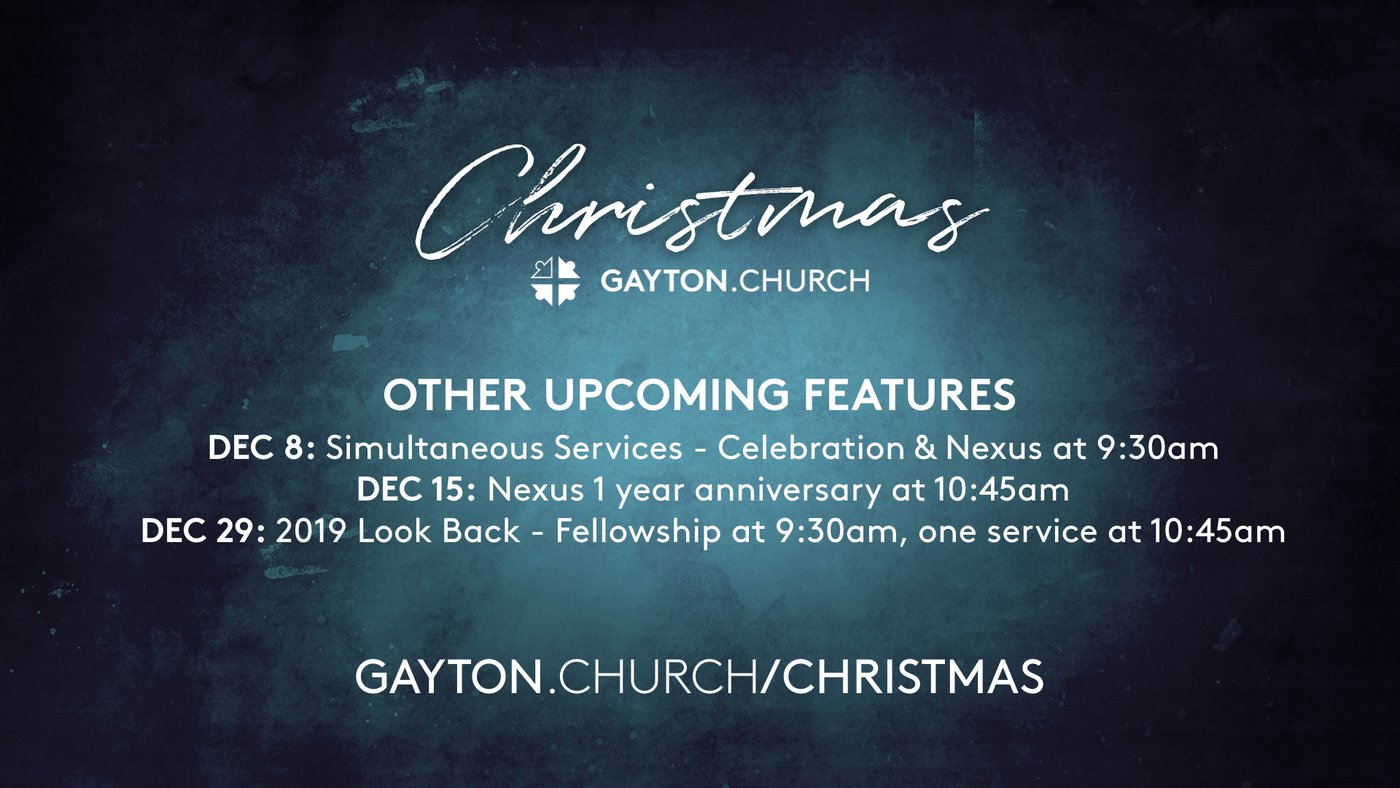 OTHER SPECIAL SCHEDULED FEATURES
December 8 - Simultaneous Services: This is the Sunday of Jazz Nativity and we will have a special schedule. Both Celebration & Nexus will take place simultaneously at 9:30am.
December 15 - Nexus Anniversary: In Nexus, we will celebrate the 1 year anniversary of the launch of Nexus.
December 22 - Christmas Cantata: Our Voices of Gayton choir and orchestra will bring a beautiful Christmas Cantata at 9:30am in Celebration service.
December 24 - Christmas Eve Schedule: We will have 3 unique Christmas Eve services - 3pm Family Service (in the Worship Center), 4:15pm Nexus Christmas (in the Gym), 5:30pm Candlelight Service (in the Worship Center)
December 29 - Special Schedule: We will start with a time of fellowship at 9:30, followed by 1 worship service at 10:45.