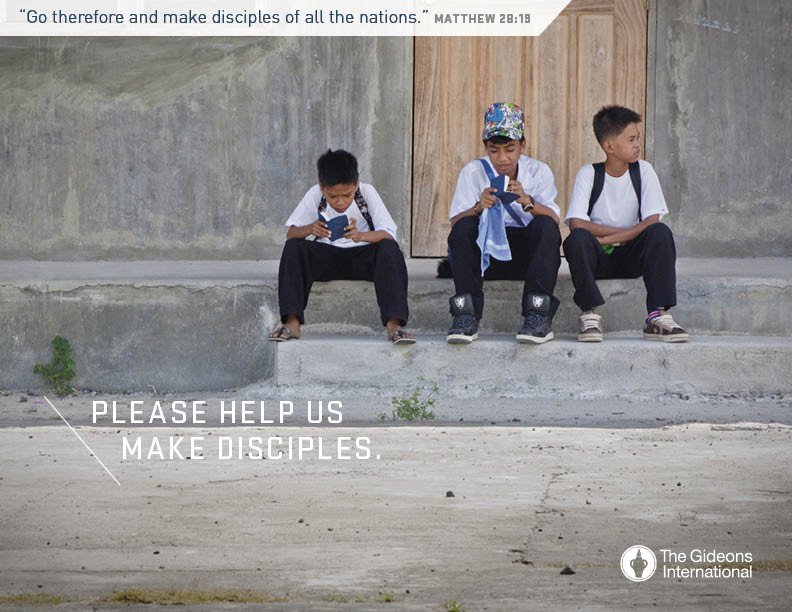 One Spirit, One Mind, One Vision-Striving Side by Side for the Faith of the Gospel
The Gideons International is a body of believers dedicated to making the Word of God available to everyone freely around the world today. Partnering together and serving as a missionary arm for local churches with a single purpose to win the souls of men, women and children to our Lord and Savior Jesus Christ.
What began in 1889 as an Association of Christian businessmen who in 1908 started placing Bibles in hotel rooms has evolved into an expanding mission to freely give Bibles away to all people in nearly every facet of life. Today, 267,000 organized Gideons, Auxiliary (wives of Gideons) members and Friends of the Gideons have taken more than 3.0 billion Bibles in more than 95 languages to over 200 countries, territories, and possessions across the globe. The Gideons distribute Bibles here locally to high school seniors at their graduation ceremonies at the Siegel Center, college campuses, police departments, fire departments, jails, prisons, professional offices, hospitals, nursing homes, hotels & motels, etc.
How Many Lives Will You Help Impact? Take Action Now.
· Personal Involvement: Become a Friend of the Gideons. As a united force for the Gospel, The Gideons International remain rooted in tradition, but operate under the firm belief that anyone can be a valuable asset to this invaluable cause. The Gideons provide many opportunities to partner with them through either prayer or financial support. For more information, please visit the Gideon Card Display in the Gayton Mission Corner by the International flags, visit www.gideons.org/Invite .
· Financial Involvement: Gayton provides funds to purchase and ship Bibles around the world. 100% of all donations received go towards the purchase and shipment of God's Word.
Gayton Contacts: Keith Morauske Steve Jones
804-339-8773 804-467-6093
kmorauske@gmail.com sjonessmj3@gmail.com