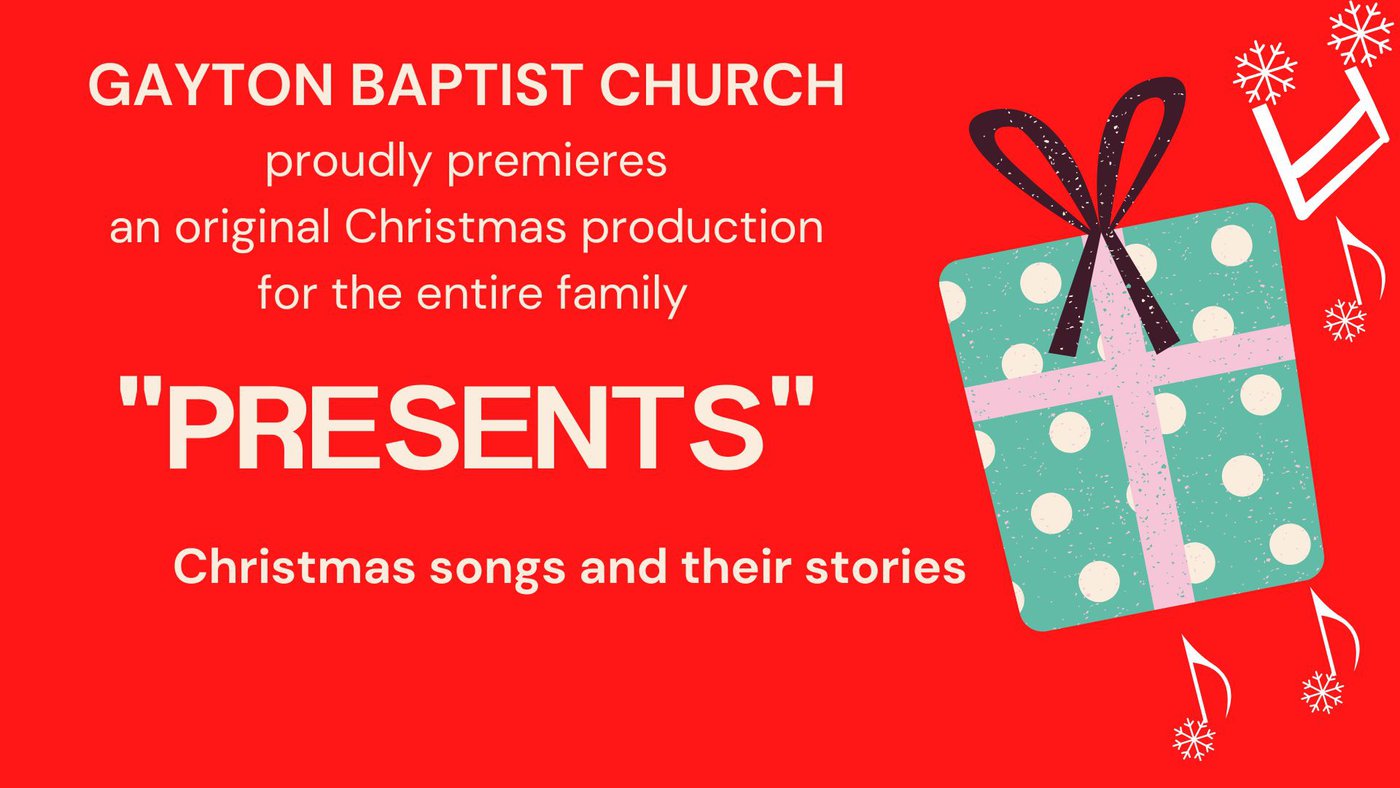 Gayton Baptist Church proudly premiers an original
Christmas production for the entire family.
"PRESENTS"
Christmas songs and their stories
December 10 & 11 at 6:00 PM
(Doors will open at 5:30 PM)
Cost: Donations only
Reservations are required as seating is limited. All seating is General Admission. Please limit your registration to 6 tickets per transaction. Please print your ticket or be prepared to show it on your phone. Tickets must be presented at the door.
All tax-deductible donations benefit Better2GetherRVA.
After completing registration, you will receive an email with
this link for making an online donation.
Donations may also be made using check or cash during the "PRESENTS" production.
If you have questions, please contact patricia@gayton.church.
Volunteers are needed! See sign up links below.


RESERVE YOUR TICKETS TODAY!
VOLUNTEER OPPORTUNITIES
Greeters, Ushers, Help Desk, Concessions
These opportunities include greeting guests at the two entrances as they enter our building; ushers will be stationed at the entrances to the worship center and balcony to hand out programs and help direct guests to seating; ticket check-in volunteers will be responsible for checking in and collecting tickets as guests are ready to enter the worship center. Will Call and help desk volunteers will help answer questions and assist with any special ticketing issues that arise. BetterTogetherRVA help desk volunteer will be available to respond to questions regarding their partnership and the ministry support of Gayton Baptist Church (information will be provided). Concessions helpers will be available before the show and during intermission to offer cookies, coffee, hot chocolate, and water.
Behind the Scenes
These opportunities include providing snacks and water prior to the show for the "Green Room" (waiting area for performers before and during the show). We ask that these snacks be brought by Friday at 7 pm prior to the performances. Other opportunities include donating a case of small bottled waters to be offered to guests prior to the show and during intermission; chair team that will assist to make sure Worship Center and great room area are in order prior to show; parking attendants will assist in directing traffic as guests arrive for each show; Set up and serve refreshments for performers and volunteers in the community room prior and during each show; Assist parent volunteers as kid choir host prior and during show when kids are not performing We are asking for 2 volunteers and can be 1 adult and 1 youth or 2 adults. Clean up crew is also needed to help clean up (pick up trash, straighten up) after each performance so that the night cleaning crew and perform their duties each night.