COVID-19 RESPONSE AND GUIDELINES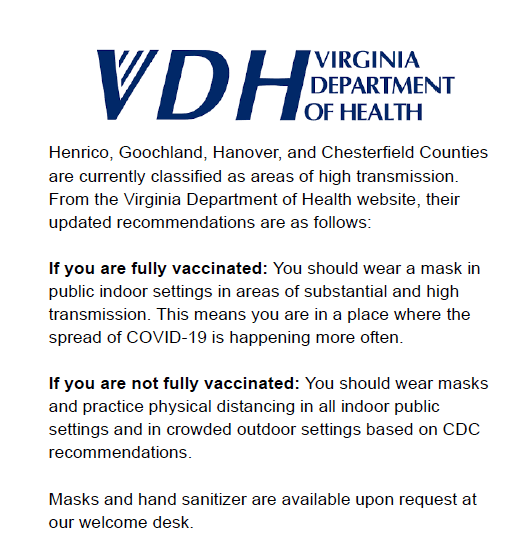 Classes and small groups currently meeting in person
Classes, small groups, LifeGroups, Bible studies, Sunday School, Kids Ministry, and Student Ministry will resume meeting at different times. *Below is the most up-to-date info available.
*Please contact your group leader to confirm/verify and for specific information on if and when you're meeting, where you're meeting, and where you should enter and exit the building and classroom. Some groups may offer a combination of in-person and Zoom.
ADULT GROUPS CURRENTLY MEETING IN PERSON
Cornerstone Sundays 9:30 AM // Greg & Annette McMahan // Room 228
In-person
Harmony Sundays at 11:00 AM // Dale Wright and Keith Morauske // Room 225
Harmony class will not meet during the summer. The class will resume in the fall.)
Sojourners Sundays at 11:00 AM // Becky Tyson // Room 214
Women's Class 11:00 AM // Janet Letteer // Room 221
KIDS MINISTRY - 9:30 and 11:00 AM - Programming for nursery, preschool and elementary kids
STUDENT MINISTRY GROUP CURRENTLY MEETING
Youth Bible Brunch 9:30am // Patio and Fireplace area
Youth Group - Sunday evenings from 6:30-8:00 PM
OVERVIEW OF WHAT TO EXPECT
QUICK DETAILS
Masks are required for everyone age 5 and over who has not been fully vaccinated
We have a limited number of masks available for those who do not have one
Hand sanitizer will be available on the Welcome desk
Everyone is expected to practice social distancing
Please do not attend in-person if you're experiencing any symptoms of COVID-19
Children are welcome! There is programming at 9:30 and 11:00 AM for Nursery - Elementary. Please contact Hillary@gayton.church to reserve a space for your child.
Seats are pre-arranged to accommodate social distancing for you and your family.
Our time of generosity will not include passing the offering basket - please give online or in the black offering boxes on your way out
WORSHIP SCHEDULE
9:30 AM in the Worship Center
11:00 AM in the Gym
Online gatherings will continue at both 9:30am and 11:00am each week.
---