CORONAVIRUS (COVID-19) UPDATE:
UPDATED 3/26: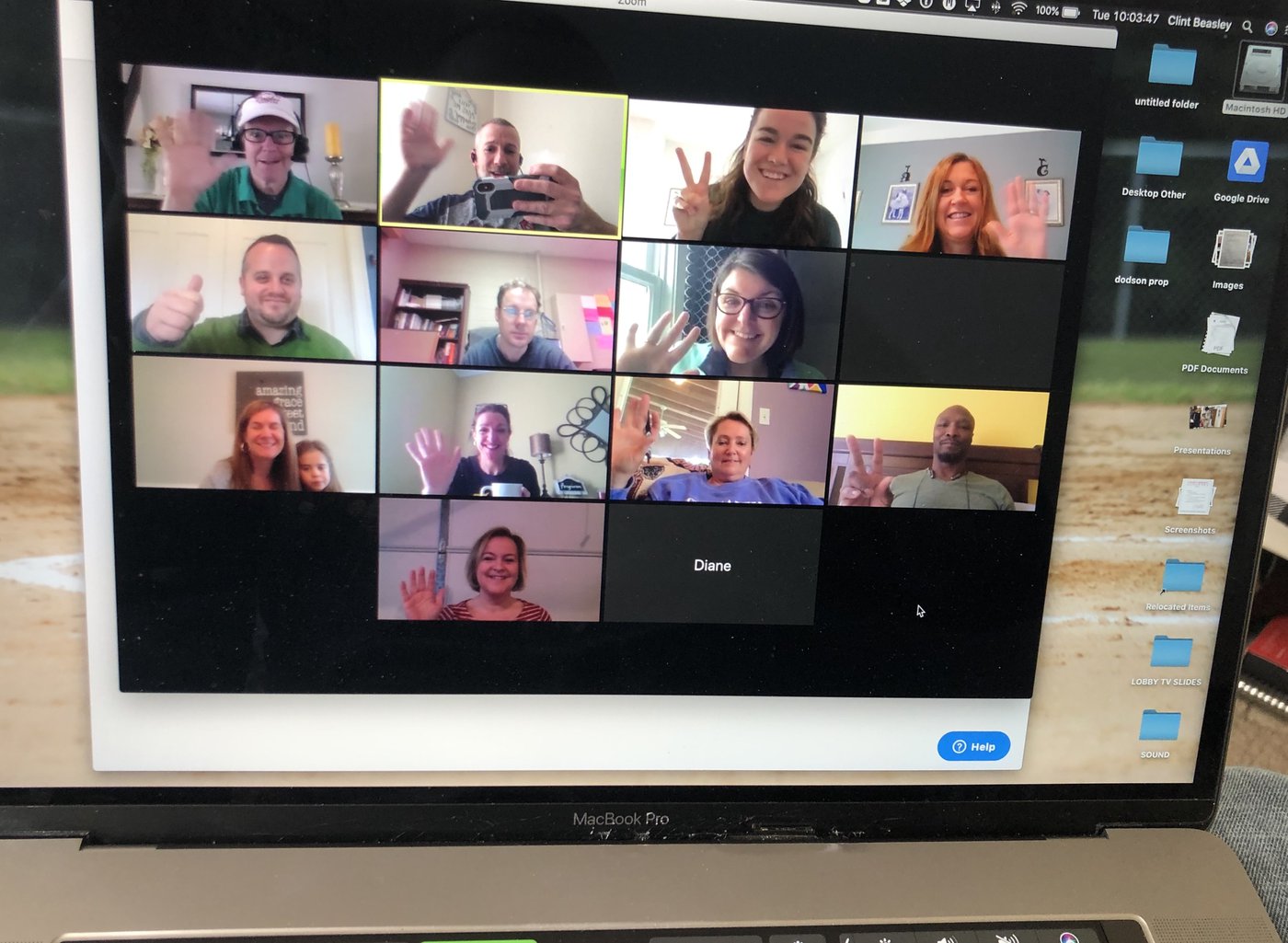 GENERAL INFORMATION:
We to give you an update on how we're responding to the potential impact of the Coronavirus on our congregation and our community.
Church staff, AGAPE & SPACE administrative staff, SLC, and lay leadership have been in deep discussions and prayer over how to respond wisely. We are committed to doing everything we can to provide a safe environment for our church family and surrounding community.
First of all, this webpage is the primary, most up-to-date place for you to get the latest information. The direct link to this web page is HTTPS://GAYTON.CHURCH/UPDATE
You can also get to this webpage by clicking on the CORONAVIRUS UPDATE card on the homepage.
---
IS GAYTON GATHERING ON SITE THIS SUNDAY?
NO. Starting Sunday, March 15, and until further notice, our building facility will be CLOSED for all programming, activities, meetings, including outside groups who use the facility. This means we will not have LIVE worship gatherings at 9:30 and 10:45 on Sunday. This reminds us of the beautiful truth that we are not reliant on a building to be a church. We ARE the church. And we can utilize technology to continue to worship together as a church family from ANYWHERE.
You can join our online stream on Sundays at 9:30 and 10:45 here.
WHAT ABOUT REBOOT?
Realistically, we will need to push our Reboot Sunday, originally schedule for 3/29, back in order to properly promote and allow it to be as powerful as possible. We will be evaluating when Reboot would be best to reschedule.
WHAT ABOUT PALM SUNDAY, GOOD FRIDAY, AND EASTER GATHERINGS?
Well... We just don't know yet. We are working on some creative plans on what these services look like if we are still not able to physically gather in the church building. Stay tuned!
---
WILL THERE BE AN ONLINE WORSHIP GATHERING THROUGH LIVESTREAM?
YES! Through our online stream, we WILL have ONLINE ONLY worship gatherings each Sunday at 9:30 and 10:45. If you have never joined us on the online stream, it's very simple. From your computer or mobile device, just go to GAYTON.CHURCH/LIVE, or click on the "WATCH LIVE" button on the website. Jeff and Victoria will lead us in worship, Pastor Mike will be teaching from the Bible, and you can even interact via live chat.
---
HOW CAN I STAY CONNECTED TO MY GROUP?
We STRONGLY encourage you to utilize technology to stay connected with your groups, classes, and teams. There are quite a few ways to do this. Below are a few of the easiest options.
STAY CONNECTED ON SOCIAL
We will be releasing engaging, helpful, encouraging, and fun content online on Instagram, Facebook, and YouTube, so if you don't already follow @GaytonChurch on the socials, be sure to do that! We want to stay engaged with you during this time.
STAY ENGAGED WITH GAYTON KIDS ON FACEBOOK
Parents - if you're not already on the Gayton Kids private Facebook Group, head over and request to join! We're releasing content each day to help you and your kids stay engaged with Kid Min and, most importantly, Jesus!
PRAY WITH PASTOR MIKE ON FACEBOOK LIVE
Each morning at 8am, Pastor Mike is taking to Facebook Live to pray with you and encourage you. Join in live at 8am or watch the video afterward if you sleep in too much :)
WAYS TO MEET AS A SMALL GROUP ONLINE
We encourage you to find ways to meet with your small groups through the various options available for online web meetings. Some groups have done this already. We, as a staff, met through Zoom.us just this morning. It was actually pretty cool! And fun. We're thankful for how current technology allows us to continue to meet together even during a time like this.
*The following video call/meeting platforms are free:
Google Hangouts (Google) (up to 10 people): If you have a Google gmail account, you can use Google Hangouts (or Hangout Meets if you're using a business G-Suite account). To organize a Google Hangout, go to https://hangouts.google.com and select VIDEO CALL (you need to be log into your gmail account). It will then prompt you to invite others to the Hangout. You can join a Hangout on a web browser on your desktop computer, or download the Google Hangouts app on your mobile device. Start your Hangout here...
Zoom.us (web) (up to 100 people, free up to 40 minutes): You can sign up for a free Zoom account and host meetings for up to 100 people. The free account limits your meetings to 40 minutes max. You can use a web browser on your computer or use the Zoom app on your mobile. You can signup at Zoom.us here...
*If you need guidance on how to use any of the above options, please don't hesitate to contact your local teenager or millennial. OR you can contact Clint for some guidance here...
THE CHURCH HAS A ZOOM ACCOUNT AND WE CAN HELP YOU SETUP A MEETING
Of course, you're welcome to arrange your own web meetings on your preferred platform. But we are happy to help you setup and arrange a web meeting through Zoom! Let us know through the Connect Card if you would like to setup a Zoom meeting and we'll help!
JEFF CAN TEACH YOU HOW TO USE ZOOM!
You may not know this, but our own Jeff Lindquist (Exec. & Worship Arts Pastor) is a Zoom expert! And he wants to teach YOU how to use Zoom to stay connected.
Jeff will host a webinar on how to use Zoom for your classes and small groups Thursday, March 26, 7-8pm.
HERE'S HOW TO JOIN THE ZOOM TRAINING...
Click on the meeting link: https://zoom.us/j/771032608
Meeting ID (if prompted): 771 032 608
If you are using a phone or tablet, you will be prompted to download the free app before the meeting; on a web browser on a desktop or laptop, you will be prompted to connect to Zoom; be sure to "allow" audio and camera usage. If you do not have a camera on your laptop/computer, it is suggested that you use your smartphone for the meeting. You do not have to have a Zoom account to attend a Zoom meeting or interview. You will be prompted to download the software once you have clicked on the link that you have been provided. You may also wish to create an account, but that is not required to participate in a Zoom meeting.
Many groups have already used FaceTime, Google Hangout/Meets, and Zoom to continue meeting together. Keep it up! We love that you want to keep connecting!
---
IS THE GAYTON BUILDING OPEN ON WEEKDAYS?
NO. Our building facility will be CLOSED for all programming, activities, meetings, including outside groups who use the facility.
---
WILL AGAPE PRESCHOOL & THE SPACE AFTER-SCHOOL BE CLOSED?
YES. Following Henrico County Schools lead, AGAPE & THE SPACE will be closed beginning Monday, March 16. AGAPE will be closed for the remainder of the school year. The SPACE After-school program will be closed through April and we will reassess as we get closer to May.
We will continue to reassess as new information becomes available and communicate any updates or changes. It is our goal to be back up and running as soon as possible. We understand this is difficult for our families and we appreciate your patience and understanding as we navigate these uncharted waters. Please reach out to ASQ staff if you have any concerns or questions. AGAPE/SPACE/QUEST WEBSITE
---
WILL THE FOOD PANTRY BE OPEN?
YES - LIMITED OPENING.
We will be open beginning April 7 every other Tuesday from 12pm until 1:30pm. It will be limited service with drive-thru and pre-packed bags of groceries.
You can get in contact with Care Ministries/Food Pantry at care@gayton.church or call 804-476-0632
An additional resource is Feedmore (804-521-2500).
---
HOW WILL I GIVE MY TITHES & OFFERING?
Closing presents an issue for those of you who give financially during our time of generosity. It's important to continue that generosity even through uneasy times like we're experiencing now. We encourage you to give through our online giving at GAYTON.CHURCH/GIVE. You can even setup an automatic recurring gift.
You can also mail your tithe and offerings if you prefer.
Gayton Baptist Church, 13501 N. Gayton Road, Henrico, VA 23233
---
SHOULD I TELL YOU IF I'VE COME INTO CONTACT WITH THE CORONAVIRUS?
If you find out that you or a loved one has come in contact with the Corona virus, please send us a message at GAYTON.CHURCH/CONNECT to let us know so that we can also take appropriate action as it relates to our church.
---
WHAT ABOUT GAYTON SHORT-TERM MISSION TRIPS?
As of now, the mission trip to Guatemala has been cancelled until further notice. Other trips we will evaluate as we get closer.
---
HOW CAN I CARE FOR MY NEIGHBOR IN THIS TIME OF UNEASINESS?
Of course, you should use caution when interacting with people due to the transmission of Coronavirus, but look for ways to care for your neighbor spiritually and physically. There will be kids without the extra food that school provides. There will be parents who don't have a way to care for their kids while they work. Be in prayer about how you can serve your neighbor.
---
HOW CAN I BETTER UNDERSTAND THE CORONAVIRUS (COVID-19)?
Coronavirus is a type of virus that causes respiratory illness — an infection of the airways and lungs. COVID-19 is a new strain of coronavirus. It is part of the same family of coronaviruses that includes the common cold. The coronavirus outbreak was first identified in Wuhan, China, in December 2019. Since then, the virus has spread to other countries.
The most common early symptoms appear between 2 and 14 days after infection. Symptoms can be mild to severe. They include fever, cough, and shortness of breath. Older people, and those with underlying medical problems like high blood pressure, heart problems or diabetes, are more likely to develop serious illness. People with fever, cough and difficulty breathing should seek medical attention. Most people recover from the disease without needing special treatment.
Like many other viruses, the coronavirus (COVID-19) seems to spread from person-to-person through a cough, sneeze, or kiss. The Center for Disease Control and Prevention (CDC) states that the risk in the U.S. is still low. They will update this status regularly on their website at cdc.gov/coronavirus. You can also find more information from the World Health Organization.