Into the Neighborhood (ITN)
Service Opportunity
WHO: Small groups of men to serve in the men's homes or small groups of women to serve in the women's homes. Children are welcome when accompanied by their parent.
WHAT: Ways to Volunteer
CONTACT: Mike Brumagin
About Into the Neighborhood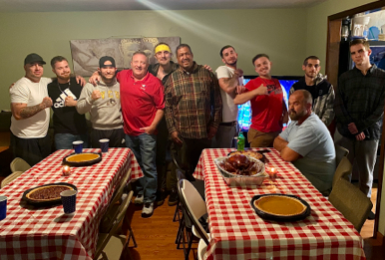 Into the Neighborhood is a ministry focused on partnering local church groups with what are called recovery houses - homes with up to 12 residents in various stages of recovery from addiction, most typically drugs. There are a number of recovery houses, both male and female, in the Richmond area, and they fall under the True Recovery Program umbrella. Most of the residents have been in prison, and many of those are just out of prison, so the recovery house is a place for them to live while they try to get back on their feet and recover from their addiction.
The ultimate goal of the partnership is for the church group to form relationships with the residents of the recovery house and minister to them both spiritually and with tangible forms of assistance. This can look many different ways depending on the nature of the relationships. specific examples of our current partnership with the Laurel Pines Recovery House include weekly dinners and Bible studies, special holiday meals, Christmas gifts bags and assistance with errands and appointments. We often spend a good amount of time just talking with the residents - hearing their stories and staying caught-up on how they are progressing from week to week.
We have also partnered with Gayton's food pantry ministry to provide grocery assistance to the residents, something that is an on-going challenge for the residents who are on very limited budgets. The residents are
incredibly thankful of all our efforts and even work with us to give back to the community, e.g. they participated in a prison gift bag packing event for Christmas - a program to deliver essentials like toothpaste and deodorant to inmates. This also allowed us to leverage our relationship with the Gideon's to deliver over 400 Bibles to the prison population.
This has been an incredibly rewarding missions ministry. It has been a blessing to serve these men and help them along their road to recovery. When we first started the program, there were very cautious and hesitant reactions on their part, but now we can't leave without getting hugs and many thanks. Of course, we benefit as much as the residents do and more importantly, have an opportunity to spread the love of Jesus.

---