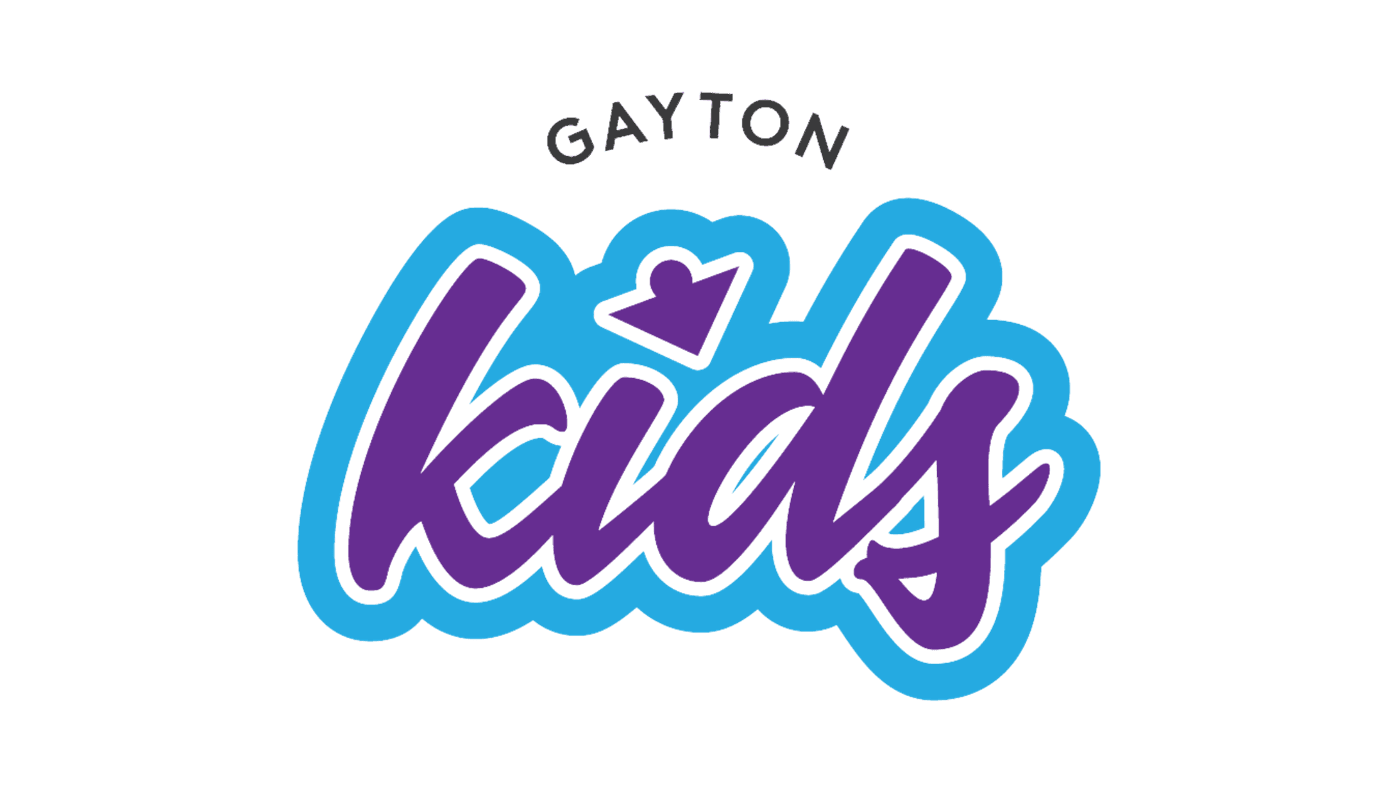 What is Gayton Kids?
Gayton Kids is a ministry for children from birth through 5th grade and their families. We partner with parents to help children grow in their relationship with God by inciting wonder, provoking discovery, and by fueling passion. We seek to utilize new and innovative ways to say, show, and teach timeless Biblical truths unique to each age level while considering the needs of every child. We would love to welcome your kids to be a part of Gayton Kids!
Sunday Mornings:
*Starting Sunday, September 10, we will move to our fall service schedule with worship services in the upstairs worship center at 9 am and 11 am, and Bible Study for all ages at 10:08 am. Kids Min check in will move to the upstairs education hallway outside of the new Preschool Church and Elementary Kids Worship classrooms. Follow the posted signage!
Programming:
We are excited to offer Kids Ministry programming throughout the year! Please check out the Glance or the monthly Kids Min newsletter for the most up-to-date information about upcoming Kids Ministry events.
Here are some important dates you won't want to miss:
Elementary Movie Night: Friday, September 29 from 7 - 9 pm in the gym
October Fifth Sunday Family Worship: Sunday, October 29, 2023 (no EKW)
3rd Annual Jingle Jam Family Experience: Tuesday, December 12, 2023 5:30 - 6:30 pm in the gym
Cocoa & Caroling: Wednesday, December 20, 2023 from 6:30 - 7:30 (meet in Pumphouse cafe)
3rd Annual Silent Nativity: Sunday, December 17, 2023 during both services
Feel free to contact Hillary with any questions about these events!


Our Vision for Gayton Kids Ministry
Gayton Kids Ministry staff and volunteers will partner with families to raise disciples who passionately follow Jesus.
Our Commitment to Each Kid and Family
We will make it safe
We will share Jesus with passion
We will bring the fun
We will connect with families
Nursery
Our nursery is a special place for infants and toddlers, from birth to 2 years, to play and be cared for by our loving and capable volunteers.
Preschool
On Sunday mornings, our Preschool Church volunteers lead children in understanding that God made them, God loves them, and Jesus wants to be their friend forever. These 3 "big ideas," as well as age-appropriate weekly bible points, are reinforced in pre- and post- worship small group activities, including a monthly Bible memory verse complete with motions that help make it "stick" for our youngest disciples.
Elementary
On Sunday mornings, elementary-aged kids engage in a fun, compelling worship service designed just for them. In Elementary Kids Worship, we seek to engage elementary schoolers to grow up understanding that they can make wiser choices, build stronger relationships, and develop a deeper authentic faith. We weave worship music, Bible stories, small group activities, video experiences, and more to reinforce one clear and simple bottom line each week, so kids can walk away and remember what matters most.
Follow Us Online!
To be added to the distribution list for the monthly Kids Ministry e-newsletter, contact Hillary.
Want more? Follow us on Facebook or Instagram for daily resources and ideas promoting discipleship opportunities for the whole family.
*For the safety and privacy of our children, only those actively attending or leading Kids Ministry programming will be given access to these closed pages.
https://www.facebook.com/groups/gaytonkids
Meet our Kids Minister
Got questions?
If you have further questions about our Gayton Kids experience or visiting Gayton with children, simply click the button below and get in touch with us!
Forms