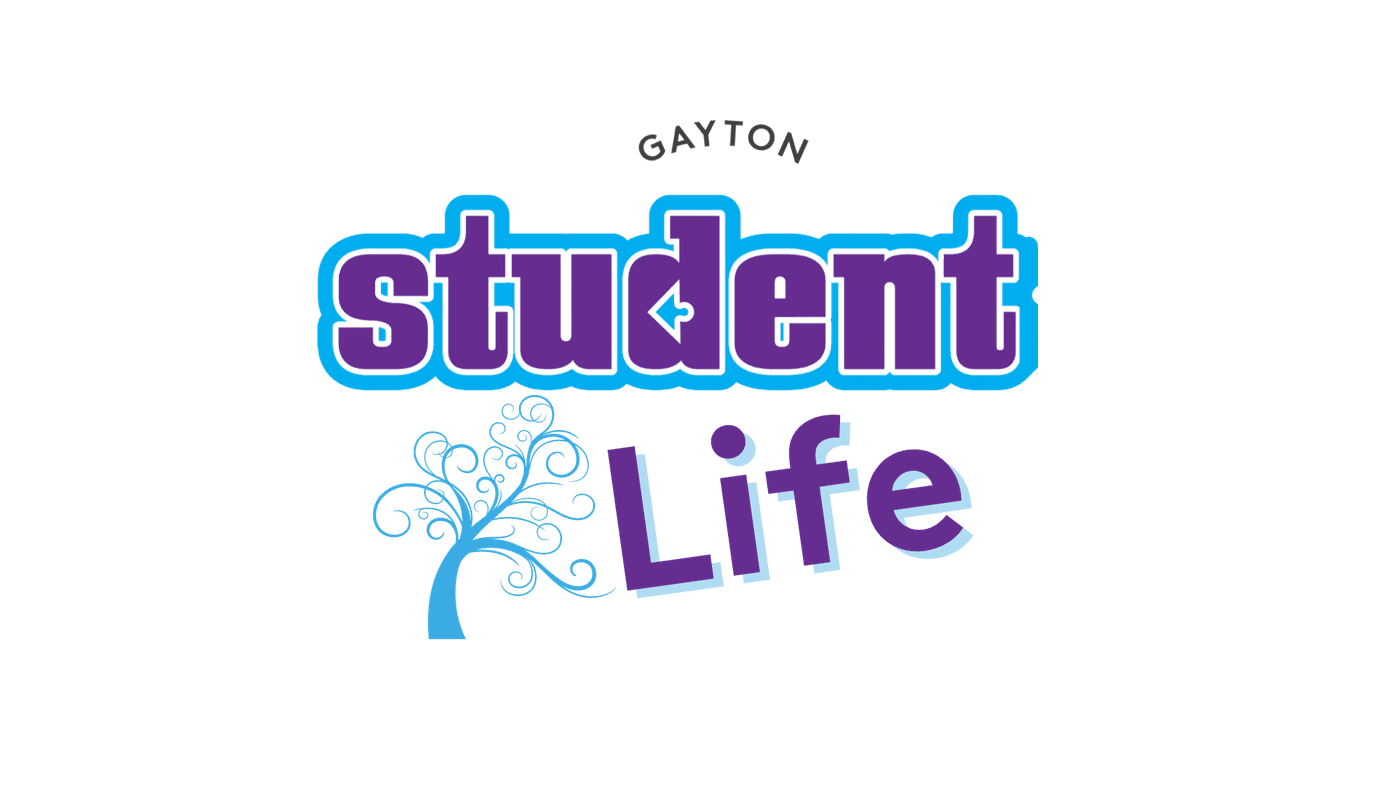 Gayton Student LIFE
Gayton Student Life is the youth ministry of Gayton Baptist Church for students in grades 6-12.
The vision is to lead students to experience LIFE in Jesus Christ through:
Discipleship: in worship, prayer, and Bible study
Community: in friendship, fun, and support
Action​: in leadership, outreach, and serving others
For more information, email Rev. Jennifer Mullins, Youth & Young Adult Pastor, at jennifer@gayton.church.
Weekly Opportunities
(Note: Worship Gathering is offered twice.
This is the same service so you can choose which time is best for you.)
Sundays
9:00am Worship Gathering – Worship Room (upstairs)
10:08am Youth Sunday Brunch
Room 223 (down hall from Worship Room, on the right.)
Bible study, food, community for all middle and high school students
Bible Study classes at this time for all ages.
11:00am Worship Gathering – Worship Room (upstairs)
5:30-7:30pm LifeNights at the Well!
Downstairs in "the Well" (Youth Area)& Gym
(Enter at doors marked with signage in front or around back – or simply drive around back to gym entrance.)
Dinner provided at 5:30 – followed by Games/Activities, Worship, Bible study, Prayer, Sharing & FUN!
Tuesdays
Coming Soon! Mid-week Hang-out at the Well!
An evening time for students to do homework, hang-out, play board games, be with friends and share in a mid-week "scripture of the week" & prayer time! Once our updated youth area is complete – the starting date & times will be announced!
---
Upcoming Events
---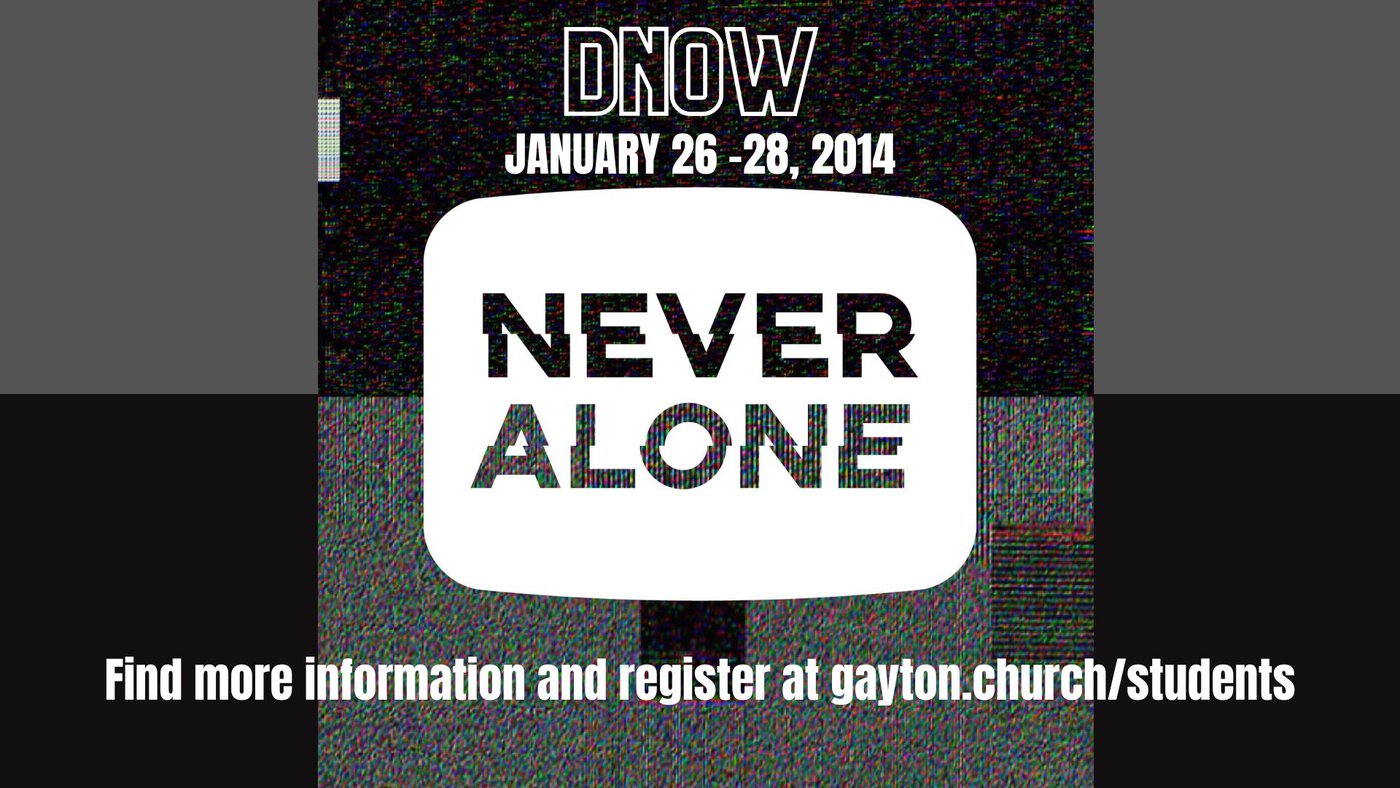 Gayton Student DNOW 2024 – "Never Alone"
January 26-January 28, 2024
For Who?
For all students in grades 6-12
What is this?
DNOW is an "in-house" youth retreat which includes small group Bible study, fun activities, mission projects and large group worship gatherings featuring guest worship band, Unbroken Light, testimonies and messages. The theme is "Never Alone" – where we will be reminded of how God provides for us in times of lonliness and shows us how to reach out to others who may feel lonely as well. God is all we need and His love is always with us.
Students will be divided into guys and girls small groups and assigned to a "host home". The small groups will stay in the host homes for the weekend, and have their Bible study times there as well. The large worship gatherings and fun activities will be held at Gayton Baptist.
All volunteers and hosts have had background checks and are approved by Gayton Baptist.
The general schedule is as follows:
Friday:
6:00pm – Check in, Dinner, Opening Activities
7:00pm – Worship Gathering 1
8:30pm – Head to Host Homes
9:00pm - Bible study 1 – followed by fellowship & lights out.
Saturday:
Breakfast in the Host Homes.
9:30am – Bible study 2
10:30am – Head to Gayton Baptist for icebreaker & Worship Gathering 2
12:15pm – Lunch
1:00pm – Mission Project
4:00pm – Head to Host Homes for a break / Pizza brought at 5:00pm
6:00pm – Bible study 3
7:00pm – Head to Gayton Baptist/icebreaker
7:30pm – Worship Gathering 3
9:30pm – Head to Host Homes
9:45pm – Bible study 4 – followed by fellowship & lights out
Sunday:
Breakfast in Host Homes.
8:00am – Head to Gayton Baptist – leave belongings in Jennifer's office.
8:15am – Meet in Worshp Center for wrap-up and prayer/ prep for Youth Sunday
9:00am & 11:00am – Youth lead Worship services – and youth will all sit together.
When is this?
Friday, January 26 – Sunday, January 28, 2024
Where is this?
Gayton Baptist Church – 13501 North Gayton Road, Richmond, Virginia 23233
Why?
To reach students with the love of Jesus Christ and to encourage students in their Christian faith through community-building, worship, Bible study and fun! To remind students that in Christ, we are never alone. To strengthen a safe and welcoming Christian community for students and to provide a fun weekend for them in the love of God!
How to sign up?
Sign up here on this link. The cost is $80 which covers programming, guest band, food, book, and tshirt. Pay when you sign up, and answer the questions provided, including the students' grade, tshirt size and any dietary restrictions. Additionally, all participants will need to bring a medical release form and signed "code of conduct' which can be found on our website: gayton.church/students. We no longer keep these forms on file – and so we will need all students to fill these out fresh for this event. Feel free to invite friends! Pass the word!
Deadline to sign up: January 1, 2024
---
Calendar of Events
Sunday, December 10:
Gayton's Christmas Production
5:00-7:00pm "Let It Show! Let it Show! Let it Show!"
(ALL INVITED!!!! Free refreshments! Donations for local ministry.)
Sunday, December 17:
Gayton Student Christmas Party at the Well!
5:30-7:30pm
Food, Christmas Games and FUN!
(Food provided – but bring any Christmas goodies, if you wish!)
This another HIGH ATTENDANCE night! Bring friends!
Sunday, December 24:
No morning activities.
Christmas Eve services at 3:30pm and 5:30pm
Both in worship room!
MERRY CHRISTMAS!
Sunday, January 7:
LIFENIGHTS for 2024 resume!!!!
5:30-7:30pm
January 26-28:
Gayton Student DNOW 2024!!
In-house retreat! (Looking for host homes for girls & guys!)
Worship gatherings, girls & guys Bible studies with age group; fun community activities & a mission project!
Ends with Sunday morning YOUTH SUNDAY for both services!
Cost: $80 – covers supplies, some food, material, worship band and shirt.
Theme: "Never Alone"
Goal: To reach more students – so invite every student you can! Deadline to sign-up 🡪 January 1, 2024
Coming in 2024 Lifegroups with mentors; Mid-week hang-out times in the Drawing Room; Spring Retreat – March 22-24; Creative Worship Night; Amazing Race; Mission trip; Fun summer plans including an end-of-summer overnight mini-retreat!
Social Media
There is a new Facebook group for Gayton Student Life! If you have a student in 6th-12th grade; if you are a student in 6th-12th grade or if you are a church member/active participant who would like to volunteer, help, teach or chaperone, then you are invited/ encouraged to join this Facebook group.
https://www.facebook.com/groups/449431423775806/?ref=share_group_link
---
Updated Forms and Information
The following forms - Medical Information/Release Form and Code of Conduct Form must be completed for students to participate in activities sponsored by Gayton Baptist Church.
Forms are valid for one year from date of submission.
---
OTHER HELPFUL LINKS
View our Sunday page to find out what to expect on Sunday morning
View The Glance - our weekly church-wide update
Contact Jennifer to receive the Remind messages.
---
Got questions?
If you have further questions about our Gayton Students experience or visiting with Gayton Students, simply submit the form below and get in touch with us!